Temperature Control News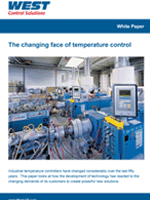 West Control Solutions has released a new technical white paper that examines the changing face of industrial temperature control technology. The paper looks at how the development of controller technology has reacted to the changing demands of users to create powerful new solutions and predicts how future developments will further boost process performance and efficiency.
A new white paper released by West Control Solutions provides valuable and practical guidance on using temperature controller calibration to improve process efficiency. This latest paper from the global specialist in process and temperature control explains the basics of input calibration and sets out some of the benefits that can be achieved.
Copyright © 2021 West Control Solutions