Temperature Control News
West Control Solutions is pleased to announce it will be exhibiting at the upcoming Furnaces North America (FNA) Expo 2014. The event is taking place in Nashville, Tennessee on 7th and 8th October.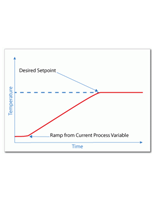 Many temperature controllers have the facility to ramp their effective setpoint towards the final target value at a predefined rate. A deviation alarm is often used with this feature to check that the process is closely following the ramp. When the setpoint reaches the top of the ramp, a "soak period" begins where the setpoint is maintained at this value.
Copyright © 2021 West Control Solutions