West Pro-EC44 Dual Temperature Controller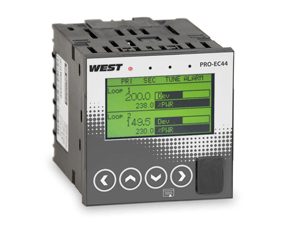 Pro-EC44
The Pro-EC44 dual temperature controller has been designed to simplify user operation through an intuitive HMI combined with easy-to-use configuration and simulation software, Blue Control©. This allows the controller to be used by a variety of personnel without compromising the functionality available.
Quick access to important product information is also facilitated with a front USB port.
The Pro-EC44 dual temperature controller is well suited to challenging applications such as: Plastics, Extrusion & Rubber, Industrial Ovens & Furnaces, Laboratory and Test Equipment, Environmental Chambers, Boiler & Steam Processes, Food & Beverage, Packaging.  
1/4 DIN format
Single, two loop, cascade or ratio control
Graphical / text display (red/green backlit LCD)
Profiler 255 segments shared by upto 64 programs
USB configuration and data access
Modbus RS485 or Modbus TCP Ethernet
Up to 5 PID sets
Gain scheduling
Datalogger with real time clock
Standards CE, UL
Product Category:
Single Loop or Two Loop Controller
Dimensions and size:
96mm x 96mm x 117mm (HxWxD), 1/4 DIN
Connectors:
Screw terminals
Primary Input Type:
1 or 2 Universal (TC, RTD, DC linear mA/mV)
Other Inputs:

External remote setpoint, (

Potentiometer,

mA, mV or VDC)

. Up to 9 digital inputs
Output Type:
Relay, Logic/SSR Driver, Trica or DC Linear mA/VDC
Max. Number of Outputs:
9
Scan Time:
100 ms
Control Type:
Single or Dual PID control (time proportioned, continuous or 3-point stepping) or 2-point (on/off)
Number of Programmer Segments:
255 segments max in upto 64 profiles. Each with 5 event tracks
Power Supply:
100 to 240VAC +/-10%, 50/60Hz or
22 to 65VDC and 20 to 48VC 50/60Hz
Communications:
RS 485 (Modbus RTU) / Ethernet (Modbus TCP)
Panel Sealing:
IP66
Certifications:
CE, cULus
Software Tools:
BlueControl
| | | |
| --- | --- | --- |
| How to Set up Ratio Control | How to Set Up Gain Scheduling | How to Set Up Digital Inputs |
| | | |
| | |
| --- | --- |
| How to Set up Valve Motor Drive | How to Set Up Cascade Control |
| | |
The Pro-EC44 controller works in conjunction with Blue Control software. Functionality includes:
Fast Parameter Configuration
Graphical Profiles Creation & Copying
Clone Other Devices
Simulator for Process Testing
Remote Management for Increased Efficiency
Familiar Software Environment for Ease-of-Use
Upload and Analyse Data from optional Recorder Feature
Please visit our software page to download BlueControl®.
Copyright © 2021 West Control Solutions