PMA TB 45 Precise Signal Monitoring Limit Controller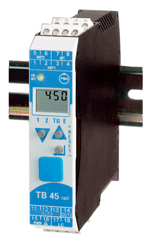 TB 45
The TB 45 temperature limiter is intended for precise, cost-effective signal monitoring & limiting tasks.
The TB 45 can be used for heating and refrigeration processes. It is suitable for all thermocouple types and resistance type sensors. It is particularly designed for use in:
All applications where an over or under temperature fault condition could present fire hazard or other hazard
Heating system in buildings to DIN EN 12828
Large hot-water boilers to DIN EN 12953-6
Thermal transfer plants with organic heat transfer media to DIN 4754
Oil-fired installations to DIN 4755
Limit signalling function for any type of input signal
Compact solution for distributed automation
Display and operating functions
2 universal inputs for TC, RTD, R, U, I, O2
Universal output, relays / optocoupler outputs
Front interface and BlueControl®-software
RS 485 interface
Compact design, only 22.5 mm (0.87") wide - saves space in the control cabinet
Clips onto top-hat DIN rail
Plug-in screw terminals or spring-clamp connectors - simple connection
Dual-line LC display with additional display elements - process values always in view
Convenient 3-key operation
Direct communication between mounted controllers, fieldbus connections via bus coupler - simple integration into PLC / PC
Universal input- also reduces stock keeping
Second analog input as universal input (optional)
Universal high-resolution output as combined voltage/current output
Two output relays or optocoupler outputs
Fast 100 ms response - also suitable for fast signals
| | |
| --- | --- |
| Product Category: | Limit Controller |
| Dimensions and size: | 99m x 22.5mm x 118mm (HxWxD) |
| Connectors: | Screw terminals or spring loaded terminals |
| Primary Input Type: | Universal (TC, RTD, DC linear mA/mV) |
| Other Inputs: | 2nd universal input |
| Output Type: | Relay, Linear mA/V DC |
| Max. Number of Outputs: | 3 |
| Scan Time: | 100 ms |
| Control Type: | Temperature limiter |
| Power Supply: | Trans100–240VAC, 18-30V AC/DC |
| Communications: | Modbus RTU, Via adapter (ETH-MODBUS TCP, PROFIBUS, CAN-open) |
| Other Functions: | Max.-, Min.-, Mean value |
| Certifications: | CE, Type tested to EN 14597 (replaces DIN 3440), cULus |
| Software Tools: | BlueControl |
3300 Configurator
The TB 45 controller works in conjunction with Blue Control software. Functionality includes:
Fast Parameter Configuration
Clone Other Devices
Simulator for Process Testing
Remote Management for Increased Efficiency
Familiar Software Environment for Ease-of-Use
Please visit our software page to download BlueControl®.
Copyright © 2018 West Control Solutions