West PlastX6 Plastics Extrusion Temperature Controller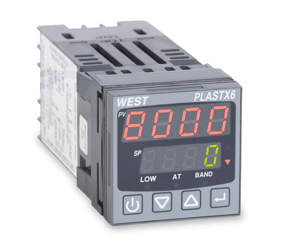 PlastX6
A discrete 1/16 DIN controller, designed specifically for plastic extrusion processes. Users benefit from a simple menu structure with pre-populated setup fields with default parameters for plastic applications.
Control options include Heat, Heat/Cool as well as offering setpoint ramping to help protect against heater burn out.
The versatile PlastX controller can also be used as a standalone process indicator to measure melt temperature.
Economic solution to precision temperature control of extruders
Fast Configuration with one page set-up guide
Suitable for both single screw, twin screw, plastic or rubber
Each controller selectable as heat only, heat/cool, or indicator
On/off button for disabling zone
LEDs for Low Alarm, Band Alarm, and Autotuning.
Product Category:

Single Loop Controller

Dimensions and Size

:

W48m x H48mm x D110mm, 1/16 DIN

Primary input type:

Universal (TC, RTD, DC Linear mA/mV)

Output type:

Relay, SSD, Triac

Max outputs:

3

Control type:

PID,ON/OFF, Manual, Alarm, Ramp to setpoint
Power supply:
100-240V AC 50-60Hz

Communications:

RS485 serial (Modbus)

Certifications

:

CE, UL, ULC, CSA
Copyright © 2021 West Control Solutions