PMA D280-1 Digital Process Indicator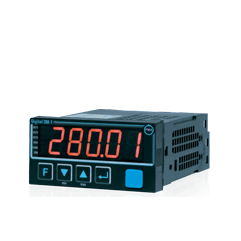 D280-1
The PMA Digital 280-1 indicator ensures a fast reaction time with a scan rate of 100 ms cycle time. 
The instrument offers customer-specific linearization for all sensors (16 segments). The maximum and minimum values are always stored and may be displayed on the front for quick reference. In addition to an indicator the Digital 280-1 can also be used as a signaller, on/off controller, two-point controller or a continuous controller.
The Digital 280-1 indicator is suitable for use in the following applications: 
Furnaces and ovens
Burners and boilers
Weighing and batching
Process control
Plastics processing
Horizontal form factor. 48mm high x 96mm wide
BluePort® Front interface and BlueControl® Software
Maintenance manager and error list
5-digit, 20mm big display
Limit signalling functions with hysteresis, discriminator time and rate of change monitor
ON/OFF-, 2-point- and continuous controller
Oxygen measurement with high-impedance input
| | |
| --- | --- |
| Product Category: | Process Indicator |
| Dimensions and size: | 96m x 48mm x 118mm (HxWxD) |
| Connectors: | Screw terminals |
| Primary Input Type: | Universal (TC, RTD, DC linear mA/mV) |
| Other Inputs: | Digital input, Optocoupler |
| Output Type: | Relay, Logic, Continuous |
| Max. Number of Outputs: | 3 |
| Scan Time: | 100 ms |
| Control Type: | Signaller, on/off, PID two-point or continuous |
| Power Supply: | 18-30VDC / 24 VAC, 90...250 VAC |
| Communications: | RS485 Modbus RTU |
| Panel Sealing: | IP65 |
| Certifications: | CE, cULus, GOST-R |
| Software Tools: | BlueControl |
The D280-1 controller works in conjunction with Blue Control software. Functionality includes:
Fast Parameter Configuration
Clone Other Devices
Simulator for Process Testing
Remote Management for Increased Efficiency
Familiar Software Environment for Ease-of-Use
Please visit our software page to download BlueControl®.
Copyright © 2021 West Control Solutions