1462 Single Loop Controller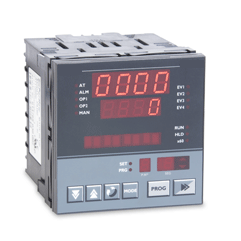 1462
The N4400 is a sophisticated, single loop controller which provides extensive profiling programming options for complex processes. The controller can create a profile with up to 121 segments, store up to 8 programs and configure and store extra programs on a PC.
The N4400 has been designed to provide immediate visibility to the operator. At a glance, the programmable displays will show you the measured variable, the set point and the parameter being edited, the number of cycles or time remaining, the recipe name and number and also whether the cycle is in a ramp or soak mode.
The N4400 has a special configuration port and dedicated software which enables you to configure directly from a PC, in addition, you can programme recipes and store them by names. Any number of recipes can be stored on a PC and downloaded via the configuration port. At all times when a recipe is running, the name of the recipe will be shown in the alphanumeric display.
8 programs with 16 segments with Free-form programming
Programming in rate or time mode
'Auto Hold' facility
Remote Run/Hold/Abort & Program Selection
4 Event Outputs
Real-Time Clock
Power Failure Recovery
Program End/Run relay as standard
Self-tuning algorithms
Modbus & ASCII comms
PC support software
Product Category:
Single Loop controller
Dimensions and size:
96mm x 96mm x 100mm (HxWxD), 1/4 DIN
Primary Input Type:
Universal (TC, RTD, DC linear mA/mV)
Other Inputs:
Digital inputs for program select/control
Output Type:
Relay, SSd, DC linear V or mA, 1 end of program relay, 4 event relay
Max. Number of Outputs:
8
Control Type:
PID, ON/OFF, Manual, Alarm, Profiling 
Profile Programming:
4 programs, 16 segments each, Real time clock
Power Supply:

100–240V AC 50–60Hz

20-50V AC 50/60Hz

22-65V DC

Communications:
RS422 & RS485 Serial (Modbus®)
Panel Sealing:
IP66
Certifications:
CE, UL
Software Tools:
N4400 Configurator
| | |
| --- | --- |
| CE Certificate | UL Listing  |
| 1462 (N4400) CE Certificate | E160863 |
| | | |
| --- | --- | --- |
| Name | Version | Description |
| N4400 Configurator | V5.0 | This software is for the configuration of the 1460/N4400 controller |
Copyright © 2021 West Control Solutions